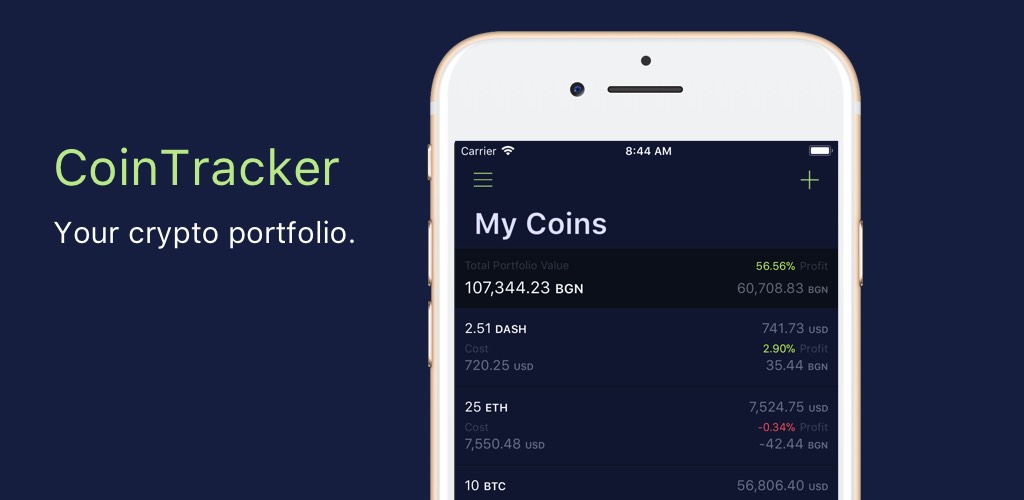 App Features
- Coin Tracker supports all major cryptocurrencies including BTC, ETH, LTC, ZEC, DASH, XRP, XMR, and many more.
- Selecting a primary currency from Crypto Settings helps currency conversion much easier, app supports all major currencies including USD, CAD, EUR, GBP, AUD, CNY, JPY, SGD, and many more.
- Display current change percentage rate, Total cost, Current value, Realized / Unrealized gains, and prices for your portfolio and individual coins. View values based on your primary currency.
- Stay upto date with all coin information with their current value, market capitalization, circulating supply, volume 24 hours and percentage change in 24 hours.
- Provides interactive charts with Historical cryptocurrency price data: hourly, daily, weekly, monthly, yearly, and all time.
- Latest News from popular cryptocurrency news sources such as Bitcoin Magazine, CoinDesk, CoinTelegraph, etc.
- Take snapshots and share your portfolio by tapping on Total Portfolio bar.
- Provides additional layer of security with Touch ID and Passcode for your coin portfolio.
In-app purchases: Unlock Coins
All existing features will be expanded to full set of cryptocurrencies with this purchase. Additionally, ERC-20 tokens feature will also be enabled. You can also preview the locked coins list before making the purchase. We would suggest this as a good option for intermediary cryptocurrency investors.
- One time payment ($2.99) to unlock one ERC-20 token address and unlock 1500+ cryptocurrencies for portfolio tracking, price data, and charts.
In-app purchases: Pro Subscription
Pro cryptocurrency investors would find this option useful with following value additions. Pro subscription costs $4.99 monthly, $49.99 annually.
- Setup unlimited price alerts when a coin goes above or below a threshold value.
- Manage multiple cryptocurrency portfolios for easier analysis.
- Add and manage unlimited ERC-20 token addresses.
- Find Initial Coin Offerings: Live, Upcoming and Completed.
- View Portfolio item prices in different exchanges.
- Lighter Theme and Larger Fonts support in Settings.
- Unlock Coins.
App Preview
Download